What to Expect
Welcome to Advanced Vascular!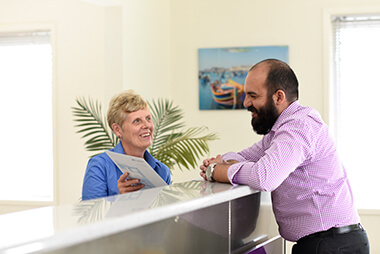 We're excited you're here and want you to know that we always take your concerns to heart. Each consultation with Dr Aziz begins with a one-on-one meeting where he'll have the opportunity to learn more about why you're seeking treatment.
Here's more about the process.
Your First Visit
At your first appointment with Dr Aziz, he'll begin with a brief introduction and give you the opportunity to speak about your health concern. He'll go over your health history as well as any past surgical procedures before moving to an in depth holistic exam, which involves taking your blood pressure and pulse. It's extremely important to Dr Aziz to get an adequate understanding of your health—in fact, this has helped him refer and pinpoint other issues that patients were unaware of.
After recording your vitals, Dr Aziz will begin an extensive exam of your vein problem areas, which typically includes an ultrasound scan. Based on his findings, he'll be able to recommend the best course of treatment for your specific needs.
If you're in agreement and would like to move forward, Dr Aziz will answer any questions you have about your recommended care plan, costs, procedures and recovery. We want you to feel calm and relaxed when it comes to care with us, knowing that you couldn't be in better hands.
Payment Options
Dr Aziz strives to make your care affordable and easy, accepting several different forms of payment including BOQ Direct Deposit, PayPal and phone payments with VISA or MasterCard by dialing 1300 482 728.
CONTACT US
Get to know more about Dr Aziz and how he can help you by contacting us to schedule your first appointment.
We look forward to assisting you!

Advanced Vascular | 1300 482 728